Plan for success in the outdoors
A brand-new app focused at supporting trampers and walkers prep and planning is here, and the NZ Mountain Safety Council (MSC) is excited to see its full potential amongst outdoor enthusiasts.
MSC is set to launch Plan My Walk version 2 this month with the hopes those keen to explore Aotearoa over the coming months will use it to plan a safe trip.
The app is about convenience - it can help with track inspiration, before guiding the user through weather forecasts and alerts, any track information and relevant alerts, and offers a customisable gear list. The latest version, released this month, has an awesome new plan page that offers the option of more detail and breaks down the trip by group members, daily schedule and any important trip notes and documents. All of this important information is then shared with an emergency contact and group members.
Across five years of research and analysis, MSC found that a concerning number of trampers who either sustained an injury, require search and rescue assistance, or tragically never make it home, are mostly avoidable. These incidents could have been prevented, or their seriousness reduced, through thorough trip planning and preparation, and sound decision-making while out in the hills. This is what ignited the Plan My Walk spark.
Everything MSC does has the end goal of reducing safety incidents and enabling people to enjoy their outdoors recreation safely. In time, MSC envisions a supportive Plan My Walk community through the important feature of the app, the review section.
Plan My Walk, Find My Adventure and the Walking Access Commission's new Pocket Maps complement one another, as every outdoor enthusiast in Aotearoa should have them on their devices. These maps help support the preparation and safety planning stage of exploring our amazing country.
Download the app, Plan My Walk, from your preferred app store, or check it out online at www.planmywalk.nz.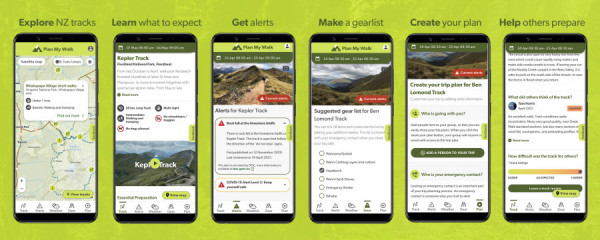 Page last updated: Oct 14, 2021, 10:30 AM