Picton-Havelock Link Pathway nears the finish line
The 38km Link Pathway Te Ara Tuhono between Picton and Havelock is nearly complete. After 15 years work on it, one of its instigators, Rick Edmonds, is looking forward to finishing.
Edmonds says the idea for the path came when locals noted there was nowhere people could go for walks and enjoy the Marlborough Sounds environment, other than on the edge of the road.
"The Queen Charlotte Drive between Picton and Havelock is narrow, is windy, and there is absolutely no footpath or area of pedestrians or cyclists to get off that road. But there are lots of people who either live here or who come here on holidays who wanted to enjoy the environment and just have nowhere to go for wanders," says Edmonds.
And yet, there was all this public Crown land throughout the Sounds which wasn't accessible.
"So, we hatched this vision - to make some pathways, some cycleways, some tracks in public land which would just mean people could access the communities, the lookouts. Just go for walks and get off the road."
From that vision Edmonds and a few other locals met in the weekends and started building a track. With no funding or even costing, they made about a kilometre of a pathway in the first year, by hand. When it was finished, they invited the mayor out to declare it open.
"All the locals came and had a barbeque. And all the kids rode their bikes along this bit of track, and we thought 'wow, this is awesome, we can actually do this'."
Edmonds says the track grew from there. But, of course, they had to get more organised, and better able to manage issues like the Resource Management Act and health and safety. And they needed money.
Money would allow them to go to subcontractors, to get specialist people to help build bridges and boardwalks and cut through rock faces - things that they couldn't do with casual volunteers.
"We just grew with the project as we tried to do more and more sections of it. To the stage now where, 15 years later, we have completed 38 kilometres, with about another 3 or 4km to do. We raised about $1.5 million to build the whole thing. We've got engineers and contractors and all sorts of expertise involved. And everybody is getting really, really excited at getting close to finishing the whole project."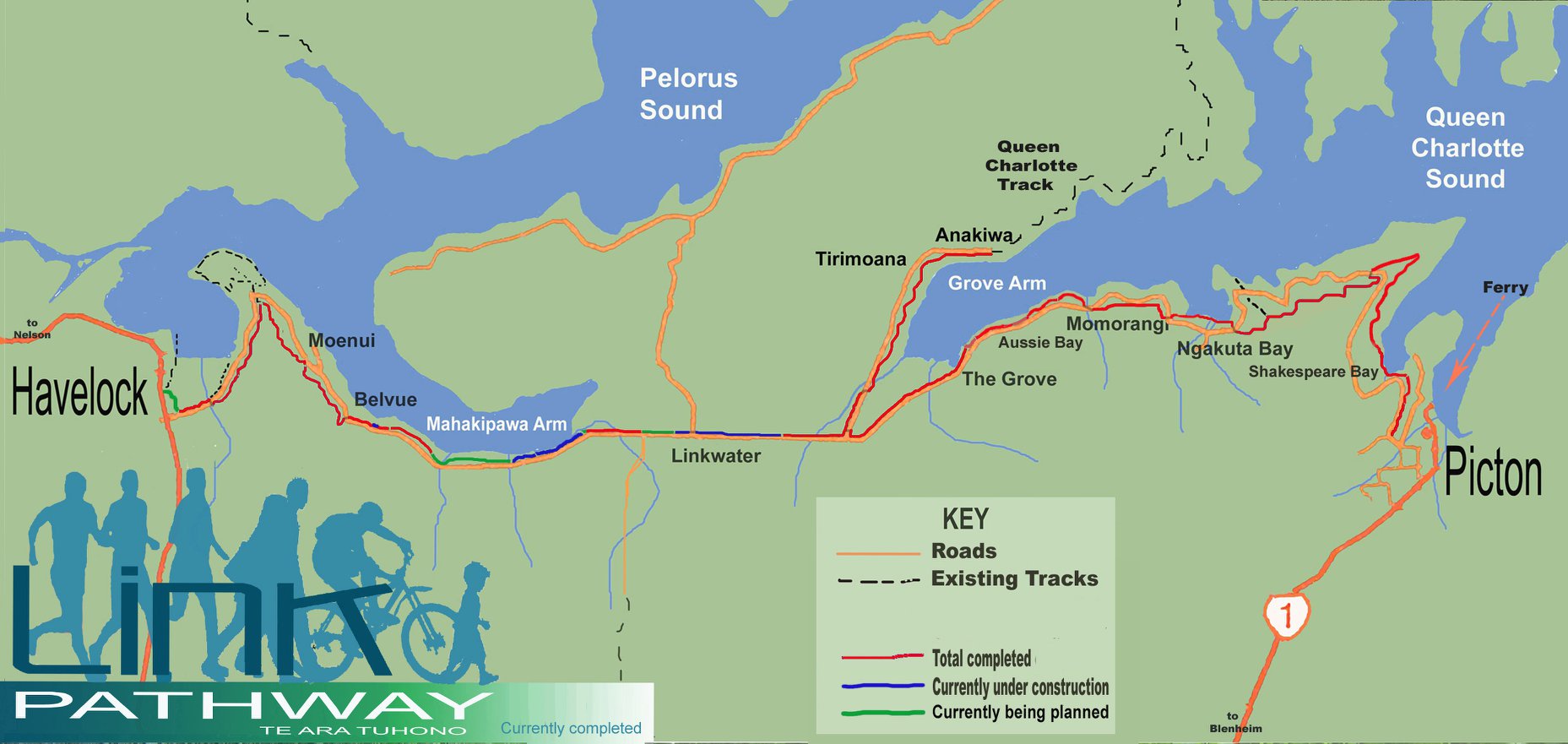 Among the organisations that supported the pathway are Marlborough District Council, Department of Conservation, Port Marlborough NZ, Rata Foundation, NZ King Salmon, Kathmandu, Outward Bound, and Te Araroa.
Initially council, the Department of Conservation and funders and sponsors supported the concept. But they all wanted to see if the small team of locals could turn the dream into action.
"And so what we started out doing was just doing little short sections that we could do and got momentum, got credibility and were able to go back to council, back to DOC, back to sponsors and get all that support that was so necessary for the harbour sections."
The Link Pathway Te Ara Tuhono is different from the Heaphy Track or the Milford where you start at one end and you pop out the other. Instead, there are a series of little sections that link communities.
So as the trail group opened sections, they gathered momentum.
The pathway is also an interesting link to the region's history.
As Edmonds started to explore and survey the area, he stumbled upon old bridle paths that had been abandoned 150 years ago.
"So I found these old, disused pack tracks that the miners and early settlers had built. And we incorporated those into the Link Pathway – so probably about 20 percent of the Link Pathway is on these old bridle paths. And it's neat that all the work that these early settlers put into building them, to make pathways between communities which were forgotten about and abandoned, that we are now resurrecting them. And we are using them for their original purposes."

The Pathway has also become an important addition to Te Araroa – connecting the Queen Charlotte Track to Pelorus Bridge
"Obviously, there are some big sections of Te Araroa that people just have to use the edge of road. So as we started to create some public pathways on public land off-road Te Araroa started getting interested in what we were doing. Because we were achieving some of their unfulfilled vision as well."
About two thirds of the Link Pathway is Te Araroa Trail. People now come off the Queen Charlotte Track, join up with the Link Pathway, come all the way through to Havelock and further on towards Pelorus.
So, what's next for the Link Pathway?
"We're going to Nelson," says Edmonds.
"Yeah, so the vision has kind of grown ahead of us. And now that we've knocked off Picton to Havelock, we're saying we're going to keep going beyond Havelock, up the Pelorus Valley over the Maungatapu Saddle."
If the Link pathway team do this, they will join up with the network of the walkways and cycleways all through Tasman and Nelson.
"People say 'well goodness, that' s a whole big addition to the vision'. But actually, when you think about what we've achieved, getting from Picton to Havelock, and the terrain and the vegetation and the challenges we've faced, with the Marlborough Sounds geology, going further from Havelock up the flat open Pelorus Valley over the existing Maungatapu Saddle is actually pretty straightforward. So, yeah, we'll do it."
---
Photos, video and graphics by the Link Pathway Te Ara Tuhono